Excess weight and obesity are not a fatality. With a personal trainer and a specific diet and program, they are preventable and reversible!
Obesity has become a global epidemic, and it is increasing. A third of the Swiss population suffers from over-weight. Young people are increasingly affected by obesity at young ages. The main causes are poor diet and insufficient physical activity. Excess weight has a significant impact on health and increases the risk for many diseases.
Children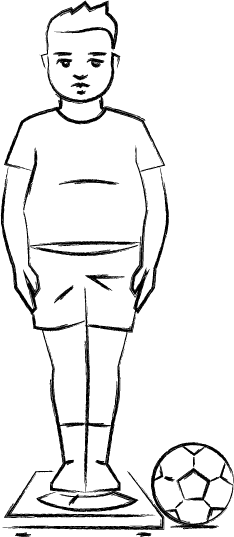 Fighting together in the family environment is an effective solution. My holistic approach therefore includes an analysis of dietary and exercise habits of the whole family. Knowing that children naturally imitate their parents, it is also up to them to show the right path and become examples.

The child's athletic program will be developed in complementary to the curricular (and possibly extra-curricular) sport activities. If necessary, and for the better harmonization of activities, I can contact other educators. In all cases, activities will be adapted to the constraints and schedule of the child.

NO! It is never easy! But we go step by step and the child will be proud of each step taken! I need the YES and determination of the whole family! Your willpower will transform you physically and mentally. Success breeds confidence, and help your child overcome difficulties he will encounter during his life.
Adults
Tired of fad diets and the yo-yo effect? It's perhaps time for a change. I have a different approach to weight loss.
I am convinced that the long-term management of weight goes well beyond the simple scope of what you eat. It is important to focus on your overall health. I help you reshape your body and your lifestyle by adopting new healthy habits and eliminating those which prevent you from achieving your goals.